Thia Hamilton, Ph.D.
Co-Founder/CEO
Known to some for years of leadership and innovation within the nonprofit sector, and to others for her scholarly contributions in the visual and conceptual realms, Thia chalks her success in small business development and strategic marketing consulting up to an intrepid entrepreneurial spirit and an unwillingness to stay inside the box — any box!
"I was marketing door to door as a little kid, organizing neighborhood theater productions, hawking greeting cards, fund raising, and 'going into business' at every turn. The Fuller Brush Man and the Avon Lady had nothing on this 7 year old!"
In any context, with any focal point, Thia's mission is to create success. Individuals, projects, teams, organizations, businesses, or single ideas: "First we define what success will look like, and then we figure out what it will take to make it happen. And then we do it. Simple."
Simple? Well, you can decide. Treat yourself to a conversation with Thia and be prepared to enter into a world of possibilities for your business and your future that will definitely have you breaking out of the box too.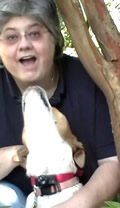 Deborah Young
Co-Founder/COO
Reformed tennis bum. Project manager. Science and science fiction geek. Fortune 50 leader. World traveler. Web marketing strategist. A "cat" and "dog" person. Business owner. Voracious reader.
There you have it – the "cloud" version of Deborah. But why in the world should you come to her for online marketing advice? Is she someone you can trust to help you grow your business?
Deborah helps entrepreneurs and local business owners understand the impact and importance of online marketing so they can be more visible on the Internet, increase their client base and become more profitable. She has worked for small businesses and Fortune 50 corporations, non-profits and sole proprietorships, managed teams in every corner of the globe and traveled in person to all those corners. She single-handedly established the initial Web presence for a $50 million business and brings over 20 years of marketing and project management experience to bear to create, integrate and track campaigns using all the tools in the online marketing arsenal.
Finding solutions is second nature to Deborah but — getting back to that whole "trust" thing — don't take our word for it, take it from someone she's worked with:
"Deborah is the type of person you look to when you have an impossible project, impossible timeline, and so many variables you don't know where to start counting. She is the person you bring in and know it will all get done and people will walk away satisfied. How often does that happen even in the best of circumstances?"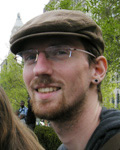 Mac Heller-Ogden
Web Development Director
Having served clients throughout the country, from Seattle to Chicago to New York City, Mac's diverse professional background offers a unique balance of the creative and technical. The sites he designs and develops are notable not only for their clean, creative presentation but also for their accessible and highly professional coding.
Co-owner and CEO of Chicago-based Pixel Dreamer, LLC, Mac has worked for clients including XM Satellite Radio; Oprah; Bob Dylan; Bob Edwards; The American College of Allergy, Asthma, & Immunology; and the Washington, D.C. Department of Transportation. His interactive flash development work on The Medici Summit website was featured in the Mar+Apr 2008 issue of Create Magazine.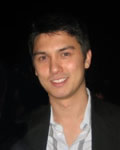 Daniel Jorgenson
Communications Strategist
Daniel's experience includes a mix of marketing and management consulting, with an expertise in the development of online communications strategy.
Prior to partnering up with Mac at Pixel Dreamer, where he is also Chief Operating Officer, Daniel worked in the Information Technology Department at Reingold, Inc., a Washington, D.C-based communications consulting firm. As a lead strategist and the department manager, his clients (among others) included the U.S. Department of the Treasury; the U.S. State Department; the Washington, D.C. Workforce Investment Council; the Washington, D.C. Chamber of Commerce; the American Association of Community Colleges; the American Society of Plastic Surgeons; and the U.S. Green Building Council.

Sean Meyer
Social Media Strategist
Sean will earn his degree in Communications/Media Studies in May – but we couldn't wait to put him to work! He is exactly what we wanted for our Social Media Strategist and also brings a wealth of advertising and public relations experience to 1424. His enthusiasm is infectious – and he will blow you away with his ideas and concepts for unique social media strategies!
"Who is Sean Meyer? I have accepted that I am the awkward offspring of a Canadian mother who still plays hockey, and a father out of a sitcom with an unhealthy affection for peanut butter.  Roll all this together with a love for the Washington Capitals, hamsters, and bumping tunes. I absolutely love working in the ad business, and can't wait to see what 2011 brings.  So next time you see a chap with a mullet walking around in the District, give him a Hi-Five."