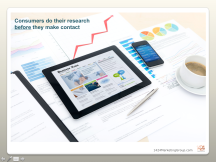 A Digital Marketing Agency to Help You Keep Up
If you are still trying to market your business like you did 15 years ago — even 5 years ago — you're falling behind….
The digital age has changed the world your customers live in — and the way you need to market your business. If you're not showing up when people go looking for the expertise, products and services they want, they'll do business with whomever does show up. And they may not even be as happy with that solution as they would have been with yours. Ouch. How do you keep up? Get advice from a bonafide digital marketing agency now!
Online Marketing Solutions for Your Business
Bad news first. Customers just aren't as loyal as they used to be. Let's face it. They have so many choices now, and there are lots of shiny objects (i.e., competitors) out there vying for their attention. Some of those shiny objects have discovered exactly how to attract online searchers and turn them into new customers. You haven't.... Yet.
So now for the Good News! Every single thing that is keeping a good business like yours from being found online can be identified and fixed. You just need help from a marketing company that speaks digital. Click the button below and let us show you how to turn your situation around!